34th Independent Battery, NY Volunteers | Guidon | Civil War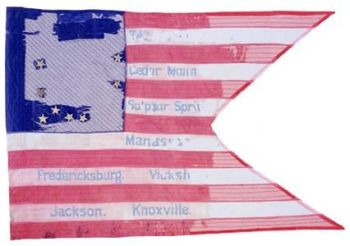 Flag dimensions: 29 3/4" hoist X 43" fly.
(1995.374)
The 34th Independent Battery, NY Volunteers received this silk, swallowtail guidon from Miss Celia Roe on April 3, 1864, at Annapolis, Maryland. Guidon bearer Private Richard Beddows earned the Medal of Honor, issued in 1896, for his actions at Spotsylvania. According to the citation, Beddows saved the guidon while under heavy enemy fire after he lost the flag when his horse became rattled by a shell burst. Approximately 40% of the flag is missing including portions of the battle honors commemorating the battery's service throughout 1862 and 1863. The guidon received a netting treatment in 1973. Not a recommended treatment by today's standards, the netting obscures construction details, creates a stiffer hand, a false sense of fabric stability, and stress holes in the delicate silk.