15th New York Independent Battery's Monument at Gettysburg
Taken from Final Report on the Battlefield of Gettysburg (New York at Gettysburg) by the New York Monuments Commission for the Battlefields of Gettysburg and Chattanooga. Albany, NY: J.B. Lyon Company, 1902.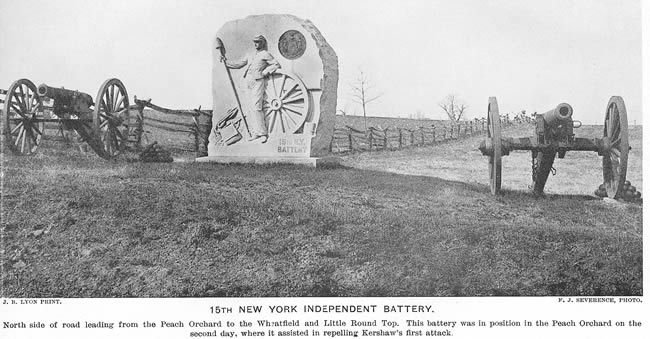 15th New York Independent Battery.
North side of road leading from the Peach Orchard to the Wheatfield and Little Round Top. This battery was in position in the Peach Orchard on the second day, where it assisted repelling Kershaw's first attack.
INSCRIPTIONS
Front - 15TH N. Y. BATTERY
Reverse - 15TH INDEPT. N. Y. LIGHT BATTERY 1ST BRIGADE ARTILLERY RESERVE CAPTAIN PATRICK HART LIEUT. EDWARD M. KNOX FORMERLY LIGHT BATTERY B, IRISH BRIGADE, JULY 2, 1863 KILLED 3, WOUNDED 13 TOTAL LOSS, 16.