William Tiemann Collection - 159th New York Infantry Regiment
Donated By The Tiemann And Farrar Families
'Amid the Many Toils and Dangers'
The Civil War Letters of William Francis "Frank" Tiemann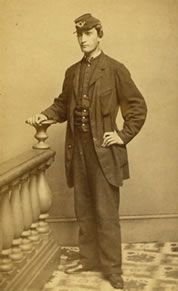 William Francis "Frank" Tiemann (1844-1926) served during the Civil War with the 159th Regiment of the New York State Volunteers, perhaps longer than any other member of the regiment. He was a recruiter for the regiment and three years later he was discharged when the regiment was disbanded.
He was wounded in the Battle of Irish Bend and fought in two other major engagements in Louisiana, at Port Hudson and Mansura. In Virginia at the Third Battle of Winchester (Opequon), he was captured and held prisoner for five months before being exchanged in February 1865. He rejoined the regiment and was in Augusta and other locations in Georgia until late September 1865. He was an infantry officer who also performed duties as an adjutant and provost marshal. After the war he was the regiment's historian.
Frank, as he was called, was the second son of Julius William Tiemann (1817-1903) and Jane Waugh (Stephenson) Tiemann (1815-1853). He was born on March 29, 1844, in the Manhattanville section of New York City. His father was a bookkeeper for a leading paint manufacturing company founded by his grandfather, Johann Anton (Anthony) Tiemann (1778-1862), and, beginning in 1848, was headed by a politically prominent uncle, Daniel F. Tiemann.
When he was growing up, Frank Tiemann lived with his parents and other relatives in several locations on Manhattan and at one time in Brooklyn.
In the summer of 1862 Frank and his older brother, Julius Henry Tiemann (1840-1906), who as known as Harry, were recruiters for a regiment then being organized in the state's Third Senatorial District (Brooklyn) by Edward Leslie Molineux (1833-1915). In 1850 the Molineux family and that of Julius and Jane Tiemann were neighbors in Brooklyn. At about that time Molineux, who apparently became a "big brother" to Frank, joined Daniel F. Tiemann & Company where Frank also worked. Molineux became a partner in the firm, but left it immediately after the Civil War.
Before the war, Harry Tiemann was an enlisted member of the New York 7th Regiment. In 1861, when that regiment was called to defend Washington, D.C., he was abroad studying in Germany. His place in the ranks of Company B for the 90-day tour of duty was voluntarily taken by Molineux.
Frank Tiemann enlisted on September 5, 1862, as an 18 year-old sergeant with the understanding that he would later receive a commission. The 159th was organized on October 28, 1862, and mustered into Federal service on November 1 "for three years, or during the war." Initially, Frank Tiemann was assigned to Company B; Harry Tiemann was a lieutenant in Company B.
Command of the regiment, part of the 19th Army Corps, was awarded to Molineux on November 25, and that day he was promoted to the rank of colonel. On December 3, the 159th sailed for Louisiana with an expedition led by Major General Nathaniel P. Banks. Shortly after the unit's arrival at Baton Rouge, Frank Tiemann received his commission and was reassigned to Company A. Later in the war he was promoted to captain and at war's end to major. The 159th left Louisiana on July 17, 1864, for duty in Virginia, initially at Bermuda Hundred and then in the lower Shenandoah Valley. At the close of the war the regiment was posted in Georgia.
The majority of Frank Tiemann's war-time letters was written to his father, Julius William Tiemann, and was addressed to him at 128 William Street, New York City, the Manhattan office of D. F. Tiemann & Company. Other letters were sent to his step-mother, Marie Antoinette Megie Tiemann (1841-1902), who he called Nettie.
Frank Tiemann had three younger sisters, Ella Antonia (1846-1920), Ida Jane (1848-1933) and Leila Annette (1850-1896). The infants he mentions are his step-brother, Hermann Newell Tiemann (1863-1957), and his step-sister, Margaret Livingston, who died in infancy in August 1865.
The letters dated December 9, 1862, through December 19, 1863, are today in the possession of Peter Tiemann Farrar of Andover, Vermont. Farrar is Frank Tiemann's great grandson. The letters dated January 5, 1864, through September 21, 1865, are today in the possession of Joyce Molineux Tiemann of Chester, Vermont. She is Frank Tiemann's granddaughter.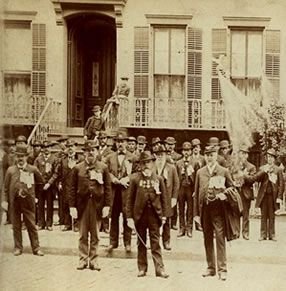 In his correspondence, Frank frequently mentions his brother Harry, who resigned his commission in December 1863, and Edward Leslie Molineux, who often is referred to by his military rank or informally as Edward or Ned. A cousin, John Anthony Tiemann (1841-1897), was also a member of the 159th, serving as a sergeant and later lieutenant. Occasionally, Frank Tiemann reports on seeing Joe Stephenson, a maternal cousin, and Will Tackaberry, another relative. The relationship, if any, of men identified as Leander, Drake, and Edgar is unknown.
The transcription of these letters follows Tiemann's idiosyncrasies and inconstancies of spelling, punctuation and the use of capital letters. In a few instances, insignificant errors in the spelling of proper names have been silently corrected.
In 1891, Frank Tiemann, then residing in Brooklyn, compiled and published the regimental history, "The 159th Infantry, New York State Volunteers, in The War of The Rebellion, 1862-1865." Perhaps at that time he penned his "Personal recollection of Army Life during the War of the Rebellion, 1862-1865," a narrative based largely on the letters he wrote home. The manuscript of "Personal recollections" is in the possession of Joyce Molineux Tiemann.
He also wrote two other unpublished monographs, "Reminiscences," an account of his growing up on Manhattan, and in 1894, "Prison Life in Dixie," an account of his wartime imprisonment. Typescript copies of both are in the New York State Library. "Prison Life" is also in the library of the Virginia Historical Society.
Frank Tiemann died May 2, 1926, in East Orange, New Jersey, one of the last survivors of the 159th New York State Volunteers.
Transcriber's Notes:
Two postwar letters sent by Frank Tiemann to his farther, Julius W. Tiemann, in 1866 – one from Savannah, Georgia, and the other from St. Louis, Missouri – are added at the end of his Civil War letters.
A smattering of letters sent by various individuals to Julius W. Tiemann is presented chronologically in the general run of letters sent by Frank Tiemann.
This transcription also includes two separate batches of letters sent to Julius W. Tiemann during the Civil War – a batch of three letters from Lyman Burnham of Brooklyn, the brother-in-law of Edward Leslie Molineux, and a batch of nine letters from Edward Leslie Molineux in which he discusses business affairs and Harry Tiemann's desire to leave military service.
-- Will Molineux, January 2009
Photographs from the collection of Peter Tiemann Farrar:
1. The photograph of Frank Tiemann was taken in the studio of K.W. Beniczky of No. 2 New Chambers Street, corner Chatham Street, New York City, in September 1862. The reverse is labeled "W.F. Tiemann, Co. B, 159th Regt, N.Y.S. Vols. Acting Sergeant Major in charge Recruit Camp on Clove Road, Brooklyn, N.Y."
2. Veterans of the 159th New York State Volunteers are pictured on June 11, 1884, when the Society of the Army of the Potomac paraded in Brooklyn as part of its 15th annual reunion. Standing in front center and holding a sword is General Edward Leslie Molineux. Frank Tiemann is believed to be the man standing behind Molineux's right shoulder with his hands holding a pair of gloves. It is likely that this picture was taken in front of Molineux's residence at 117 Fort Greene Place, Brooklyn, and, if so, that the boys on the stairway could be his sons, Leslie Edward and Cecil Sefton Molineux
The Letters
To Marie Antoinette Megie Tiemann (Stepmother, Nettie)
From Others to William F. Tiemann