150th New York Infantry Regiment's Monument at Gettysburg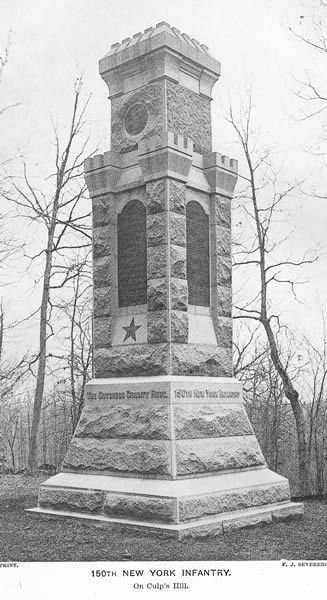 Taken from Final Report on the Battlefield of Gettysburg (New York at Gettysburg) by the New York Monuments Commission for the Battlefields of Gettysburg and Chattanooga. Albany, NY: J.B. Lyon Company, 1902.
INSCRIPTIONS
Front - 150TH NEW YORK INFANTRY 2ND BRIGADE (LOCKWOOD'S) 1ST DIVISION 12TH CORPS JULY 2 AND 3, 1863. THE DUTCHESS COUNTY REG'T. THIS REGIMENT DEFENDED THESE WORKS ON JULY 3, FROM 6.30 TO 9 A. M., AND FROM 10 A. M., TO 12 M., AND CAPTURED 200 PRISONERS.
Reverse - CASUALTIES. KILLED. CORP'L JOHN VAN ALSTYNE, Co. A.; PRIVATE JEDEDIAH MURPHY, Co. E.; PRIVATE CHARLES HOWGATE, Co. A.; PRIVATE. B. C. BURNETT, Co. G.; PRIVATE LEVI RUST Co. A; PRIVATE WM. H. BARNES, Co. I.; PRIVATE JOHN P. WING, Co. A.
ENGAGEMENTS. GETTYSBURG, RESACA, NEW HOPE CHURCH, KOLB'S FARM, PEACH TREE CREEK, SIEGE OF ATLANTA, SHERMAN'S, CAMPAIGNS OF GEORGIA AND THE CAROLINAS, SAVANNAH, AVERASBOROUGH, BENTONVILLE. 8TH CORPS.I2TH CORPS.20TH CORPS.
Right - MUSTERED IN OCTOBER 11, 1862.
Left - THIS REGIMENT WAS RECRUITED TO 1,277 MEN. KILLED IN BATTLE; OFFICERS, 2; ENLISTED MEN 44. DlED FROM WOUNDS AND SICKNESS IN SERVICE, 3 OFFICERS AND 59 MEN. TOTAL LOST IN SERVICE, I06. TRANSFERRED TO 60TH NEW YORK, JUNE 8, 1865, 176 MEN. MUSTERED OUT 524 MEN AND 36 OFFICERS. MUSTERED OUT JUNE 8, 1865. (Inscription on marker near the Peach Orchard.) 150TH NEW YORK INFANTRY OF LOCKWOOD'S BRIGADE, 1ST DIVISION, 12TH CORPS, CHARGED TO THIS POINT ON JULY 2, 1863, ABOUT 8 P. M. AND DREW OFF THREE ABANDONED GUNS OF BlGELOW's BATTERY.
The monument has — in addition to the above — inscriptions containing the list of wounded at Gettysburg, and the officers' roster at the muster in and muster out of the regiment.