122nd New York Infantry Regiment's Monument at Gettysburg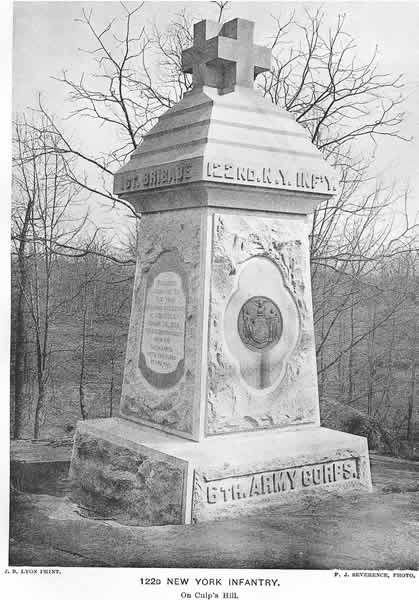 Taken from Final Report on the Battlefield of Gettysburg (New York at Gettysburg) by the New York Monuments Commission for the Battlefields of Gettysburg and Chattanooga. Albany, NY: J.B. Lyon Company, 1902.
INSCRIPTIONS
Front - 122ND N. Y. INF'Y, 6TH ARMY CORPS.
Right Side - 3D DIVISION.
Reverse - ASSISTED IN REPULSING THE ATTACK ON THE MORNING OF JULY 3, 1863. LOSS, KILLED 10, WOUNDED 34.
Left Side - 1ST BRIGADE. ORGANIZED ONONDAGA CO., NEW YORK. MUSTERED INTO SERVICE AT SYRACUSE, N. Y., AUGUST 28, 1862. SERVED CONTINUOUSLY WITH THE SIXTH CORPS UNTIL THE CLOSE. OF THE WAR.