122nd Infantry Regiment
Nickname: The Onondagas
Mustered in: August 28,1862
Mustered out: June 3, 1865
The following is taken from New York in the War of the Rebellion, 3rd ed. Frederick Phisterer. Albany: J. B. Lyon Company, 1912. Colonel Silas Titus receive authority, July 22, 1862, to raise this regiment in the county of Onondaga; it was organized at Syracuse, and there mustered in the service of the United States for three years August 28, 1862.
The companies were recruited principally: A at Baldwinsville; B at Syracuse; C at Fayetteville and Farmersville; D at Syracuse, Onondaga, Spafford and Amber; E at Syracuse; F at Marcellus and Syracuse; G at Eldridge; H at Camillus and Syracuse; I at Syracuse, and K at Syracuse, Tully, Skaneateles and Cicero.
The regiment left the State August 31, 1862; it served in the 3d Brigade, 1st Division, 4th Corps, from September 6, 1862; in the 3d Brigade, 3d Division, 6th Corps, from September, 1862; in the 1st Brigade, 3d Division, 6th Corps, from December, 1862; on Johnson's island, Lake Erie, Ohio, from January, 1864; in the 4th Brigade, 1st Division, 6th Corps, from March, 1864; in the 3d Brigade, 2d Division, 6th Corps, from July 6, 1864; and it was honorably discharged and mustered out, commanded by Col. Horace H. Walpole, June 23, 1865, near Washington, D. C.
During its service the regiment lost by death, killed in action, 5 officers, 56 enlisted men; of wounds received in action, I officer, 30 enlisted men; of disease and other causes, 3 officers, 85 enlisted men; total, 9 officers, 171 enlisted men.
The following is taken from The Union army: a history of military affairs in the loyal states, 1861-65 -- records of the regiments in the Union army -- cyclopedia of battles -- memoirs of commanders and soldiers. Madison, WI: Federal Pub. Co., 1908. volume II.
One Hundred and Twenty-second Infantry—Cols., Silas Titus, Augustus W. Dwight, Horace H. Walpole; Lieut-Cols., Augustus N. Dwight, Horace H. Walpole, James M. Gere; Majs., Joshua B. Davis, Jabez M. Brower, Alonzo H. Clapp, Morton B. Marke. This regiment, recruited in the county of Onondaga, rendezvoused at Syracuse and was there mustered into the U. S. service for three years on Aug. 28, 1862. The regiment left the state three days
New York Regiments
139
later and was assigned to the 3d brigade. 3d division, 6th corps. It was under fire for the first time at Antietam, but sustained no losses. In the 1st brigade of Newton's (3d) division, same corps, it was slightly engaged at Fredericksburg, where a few men were wounded. It was engaged on the same field again, in May, 1863, in the battle of Marye's heights, when the divisions of Newton and Howe carried the heights at the point of the bayonet. At Get-tysburg it went into action with Shaler's brigade as a support to the 12th corps and sustained a loss of 44 killed, wounded and missing. It was sharply engaged in November at Rappahannock Station, when the 6th corps successfully stormed the enemy's intrenchments, losing 13 killed and wounded in the battle. It then engaged in the Mine Run campaign, and during Jan. and Feb., 1864, it was stationed on Johnson's island in Lake Erie, rejoining its corps in March, when Shaler's brigade (1st), was assigned to Wright's (1st) division. It encountered the hardest fighting of its experience at the Wilderness, where it lost 119 killed, wounded and missing. At Spottsylvania its losses were 24 wounded and missing, and at Cold Harbor 67 killed and wounded. After taking part in the early assaults on Petersburg in June, it accompanied the vet-eran 6th corps to Washington, at the time Early threatened the capital. In the 3d brigade, 2nd division, it was there active at Fort Stevens, joined in the pursuit of Early into Virginia and up the Shenandoah Valley, fighting at Charlestown, the Opequan, Fisher's hill and Cedar creek. Its losses from July 12 to Oct. 20, 1864, aggregated 110 killed and wounded. On Dec. 12, 1864, it was back in the trenches before Petersburg and established its , winter quarters near the Weldon railroad. It was actively engaged at Petersburg with the 6th and 2nd corps, when the Confederates attacked Fort Stedman, losing 16 killed and wounded, and closed its active service with the Appomattox campaign, when it was active at the final assault on Petersburg. April 2, 1865, and at Sailor's creek, where it fought its last battle. Maj. Jabez M. Brower was among the killed at Cedar creek, and Col. Augustus W. Dwight was killed in the action at Fort Stedman. The regiment commanded by Col. Walpole was mustered out near Washington, June 23, 1865. During its term of service it lost by death 6 officers and 86 enlisted men killed and mortally wounded; 3 officers and 85 enlisted men by disease and other causes, a total of 180.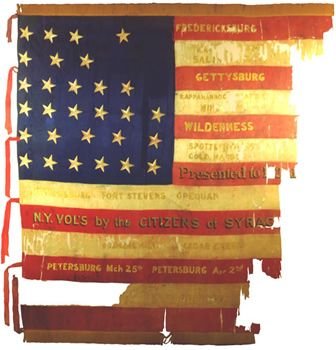 122nd Regiment NY Volunteer Infantry | National Color | Civil War
This silk national color carried by the 122nd New York Volunteers features 29 of the original 34 stars, 3-inch bullion fringe, painted battle honors,…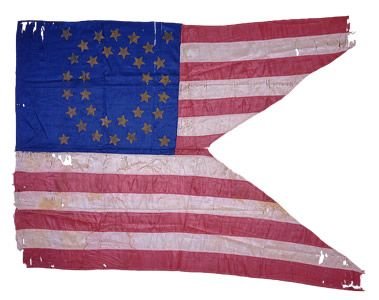 122nd Regiment NY Volunteer Infantry | Guidon | Civil War
This 34-star silk swallowtail guidon conforms to the "stars and stripes" pattern prescribed in General Order No. 4, Headquarters of the U.S. Army,…