108th New York Infantry Regiment's Monument at Gettysburg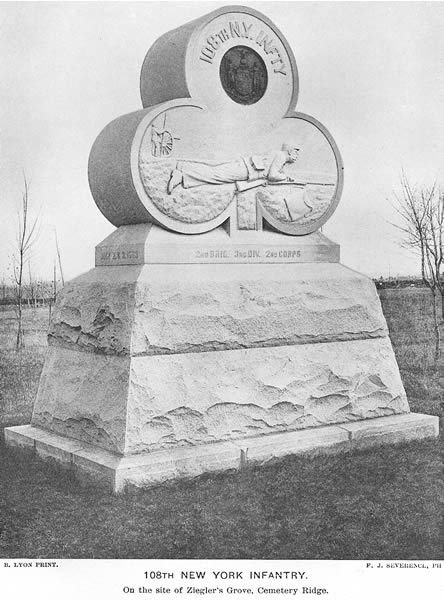 Taken from Final Report on the Battlefield of Gettysburg (New York at Gettysburg) by the New York Monuments Commission for the Battlefields of Gettysburg and Chattanooga. Albany, NY: J.B. Lyon Company, 1902.
INSCRIPTIONS
Front - 108TH N. Y. INFTY 2ND BRIG. 3RD DIV. 2ND CORPS.
Reverse - 108TH N. Y. INFTY OCCUPIED THIS POSITION JULY 2 & 3, 1863, SUPPORTING BATTERY I, 1ST U. S. ART. DURING THE ARTILLERY DUEL ON THE AFTERNOON OF JULY 3, IT SUSTAINED A TERRIFIC FIRE WITHOUT BEING ABLE TO RETURN A SHOT. NUMBER ENGAGED, 200. CASUALTIES: KILLED 16, WOUNDED 86; TOTAL, 102, DURING THE CHARGE THE LEFT OF THE CONFEDERATE LINE LAPPED ITS FRONT AND CAME WITHIN 5O YARDS OF IT BEFORE BREAKING. THE I08TH N. Y. INFTY. WAS RECRUITED AND MUSTERED INTO THE SERVICE AT ROCHESTER N. Y., AUG. 16, 1862. IT PARTICIPATED IN ALL THE BATTLES OF THE 2D CORPS FROM ANTIETAM, SEPT. 17, 1862, TO THE SURRENDER AT APPOMATTOX, APRIL 9, 1865, HAVING BEEN ACTIVELY ENGAGED 28 TIMES
Left Side - JULY 2 & 3, 1863.
Right Side - JULY 2 & 3, 1863.