95th New York Infantry Regiment's Monument at Gettysburg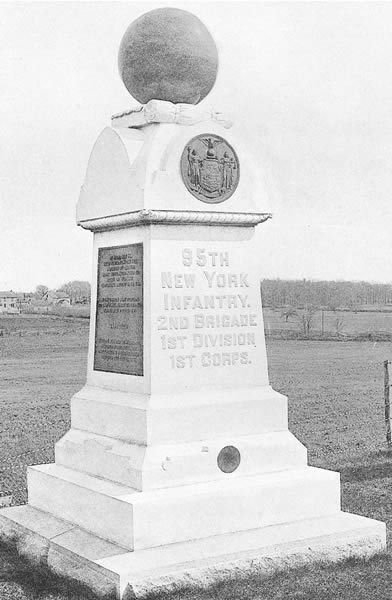 Taken from Final Report on the Battlefield of Gettysburg (New York at Gettysburg) by the New York Monuments Commission for the Battlefields of Gettysburg and Chattanooga. Albany, NY: J.B. Lyon Company, 1902.
INSCRIPTIONS
Front - 95TH NEW YORK INFANTRY. 2ND BRIGADE, 1ST DIVISION, 1ST CORPS.
Right Side - JULY 1, 1863. THIS REGIMENT WAS FORMED SOUTH OF THE MCPHERSON HOUSE AND ENGAGED THE ENEMY AT 10 A. M. AT 10:30 A. M. CHANGED FRONT, ADVANCED TO THIS POSITION WITH THE 84TH NEW YORK AND 6TH WISCONSIN, REPULSED AND CAPTURED A LARGE PART OF DAVIS' MISSISSIPPI BRIGADE IN THE RAILROAD CUT.
Left Side - AT NOON, JULY 1, HELD POSITION ON OAK HlLL INDICATED BY MARKER; BEING OUTFLANKED MOVED TO THE RIGHT OF THE SEMINARY, SUPPORTING BATTERY B, 4TH U S. RETIRED FROM THAT POSITION TO CULP'S HILL WHERE IT REMAINED DURING JULY 2 AND 3. CASUALTIES. KILLED 7 WOUNDED 62 MISSING 46. MUSTERED IN OCT. 15, 1861. PARTICIPATED IN EIGHTEEN ENGAGEMENTS MUSTERED OUT JULY 16, 1865.