Monument at Gettysburg
Taken from Final Report on the Battlefield of Gettysburg (New York at Gettysburg) by the New York Monuments Commission for the Battlefields of Gettysburg and Chattanooga. Albany, NY: J.B. Lyon Company, 1902.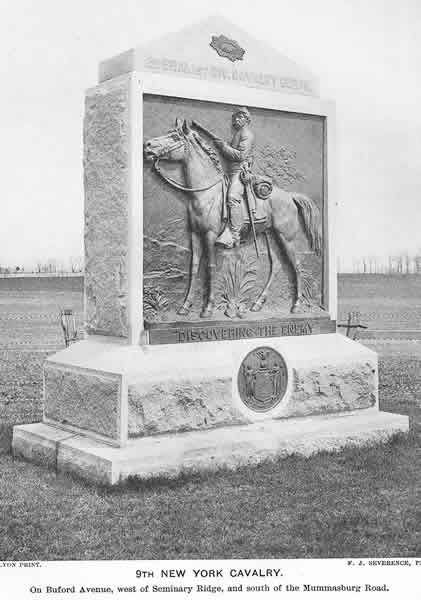 INSCRIPTIONS
Front - 9TH NEW YORK CAVALRY 2D BRIG. 1ST DIV. CAVALRY CORPS " DISCOVERING THE ENEMY ".
Reverse - 9TH NEW YORK CAVALRY ENLISTED, OCTOBER 1, 1861. RE-ENLISTED, JAN. 2, 1864. MUSTERED OUT, JULY 17, 1865. TOTAL ENLISTMENT AMONG WHICH LOSSES OCCURRED, 1,981. LOSSES DURING SERVICE: KILLED IN ACTION, 63; DIED OF WOUNDS, 32; OTHERS WOUNDED, 270; DIED WHILE PRISONERS, 16; OTHERS CAPTURED 125. BATTLE LOSSES, 506; KILLED ACCIDENTALLY, 3; DIED OF DISEASE, 110. AGGREGATE LOSSES, 619. BATTLES AND SKIRMISHES, 141. BATTLE FLAGS CAPTURED, 5. PRINCIPAL ENGAGEMENTS. WILLIAMSBURG, POPE'S CAMPAIGN, BEVERLY FORD, ASHBY'S GAP, GETTYSBURG, WILLIAMSPORT, BRANDY STATION, WILDERNESS, YELLOW TAVERN, MEADOW BRIDGE, COLD HARBOR, TREVILIAN STATION, DEEP BOTTOM, SMITHFIELD, LEETOWN, WINCHESTER, PORT REPUBLIC, TOM'S BROOK, CEDAR CREEK, GORDONSVILLE, WAYNESBORO, DINWIDDIE C. H., FIVE FORKS, SAILOR'S CREEK, APPOMATTOX.
Around border of bronze medallion - COL. WILLIAM SACKETT, COMMANDING REGIMENT, KILLED AT TREVILIAN STATION, VA., JUNE 11, 1864. POSITION 8 A. M., JULY 1, 1863. PICKET ON CHAMBERSBURG ROAD, FIRED ON AT 5 A. M.