84th New York Infantry Regiment's Monument at Gettysburg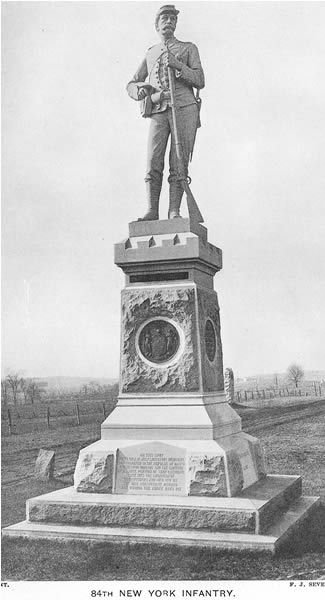 Taken from Final Report on the Battlefield of Gettysburg (New York at Gettysburg) by the New York Monuments Commission for the Battlefields of Gettysburg and Chattanooga. Albany, NY: J.B. Lyon Company, 1902.
INSCRIPTIONS
Front - 84TH N. Y. INFT. ON THIS SPOT AT 10:30 A. M., JULY 1, 1863, THIS REGIMENT PARTICIPATED IN THE REPULSE OF DAVIS' MISSISSIPPI BRIGADE AND THE CAPTURE OF A LARGE PORTION OF THAT COMMAND. TOOK INTO THE ENGAGEMENT 356 OFFICERS AND MEN, AND, BY THE WAR DEPARTMENT RECORD, LOST DURING THE THREE DAYS 217.
Right Side - 14TH REGT. N. Y. S. M., 2D BRIGADE, 1ST DIVISION, 1ST ARMY CORPS. ERECTED AND DEDICATED A. D. 1887.
Left Side - 14TH BROOKLYN REGIMENT. JULY 1. FIRST ENGAGED THE ENEMY BETWEEN THE MCPHERSON HOUSE AND REYNOLDS GROVE; SUBSEQUENTLY MOVED TO THIS PLACE AND ENGAGED DAVIS' BRIGADE; REMAINED AT THE RAILROAD CUT AT SEMINARY RIDGE UNTIL THE FINAL RETREAT; HAD A RUNNING FIGHT THROUGH GETTYSBURG TO CULP'S HILL. ON THE EVENING OF THE 2D AND AGAIN ON THE MORNING OF THE 3D WENT TO SUPPORT GREENE'S BRIGADE AND WAS HEAVILY ENGAGED.
Reverse - THE 14TH REGIMENT NEW YORK STATE MILITIA (84TH N. Y. VOLS.) ENTERED THE U. S. VOLUNTEER SERVICE APRIL 18, 1861. PARTICIPATED IN 22 ENGAGEMENTS WITH THE ENEMY AND WAS DISCHARGED ON EXPIRATION OF TERM OF SERVICE, JUNE 6, 1864.