Monument of the New York City
Volunteer Fire Department at Gettysburg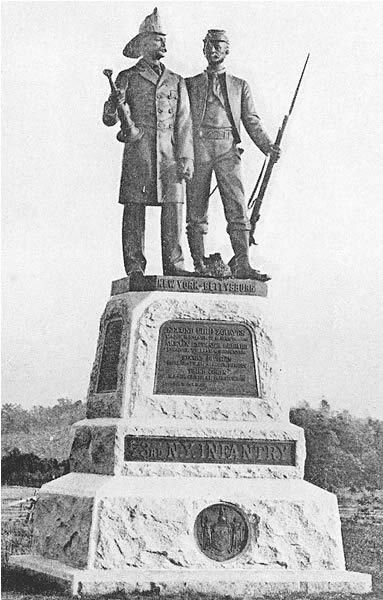 Taken from Final Report on the Battlefield of Gettysburg (New York at Gettysburg) by the New York Monuments Commission for the Battlefields of Gettysburg and Chattanooga. Albany, NY: J.B. Lyon Company, 1902
INSCRIPTIONS
Front - SECOND FIRE ZOUAVES - MAJOR MICHAEL W. BURNS COMMANDING. SICKLES' EXCELSIOR BRIGADE - COLONEL WILLIAM R. BREWSTER. SECOND DIVISION - BRIG. GENERAL A. A. HUMPHREYS. THIRD CORPS - MAJOR GENERAL D. E. SICKLES. MUSTERED IN JULY 10, 1861 - MUSTERED OUT JUNE 29, 1865. 73D N.Y. INFANTRY
Reverse - VOLUNTEER FIRE DEPARTMENT - NEW YORK CITY ORGANIZED 1658. DISBANDED 1865. THIS MONUMENT WAS ERECTED AT THE INSTANCE OF THE VOLUNTEER FIREMEN OF THE CITY OF NEW YORK, REPRESENTED ON THE LEFT, IN GRATEFUL RECOGNITION OF THE SERVICES RENDERED BY THE SECOND FIRE ZOUAVES ON THIS FIELD IN DEFENCE OF THE UNION JULY 2, 1863.
BOARD OF TRUSTEES. UNDER CHAPTER 397 LAWS OF NEW YORK 1897. ROBERT B. NOONEY, GEORGE W. ANDERSON, RICHARD CULLEN, MATTHEW STEWART, PETER J. HICKEY, MICHAEL F. WYNN, THOMAS FAIR, JOHN SIDELL, FRANCIS McCARTHY.
Right Side - THE FOURTH REGIMENT WAS CONDUCTED TO THIS POSITION BY MAJOR H. E. TREMAIN, OF THIRD CORPS STAFF ABOUT 5:30 P.M., ON JULY 2, 1863. ITS LOSS ON THIS FIELD WAS: KILLED - 4 OFFICERS AND 47 ENLISTED MEN. WOUNDED - 11 OFFICERS AND 92 ENLISTED MEN. MISSING - 8; AGGREGATE 162.
Left Side - THE SECOND FIRE ZOUAVES SERVED WITH THE ARMY OF THE POTOMAC, AND PARTICIPATED IN ITS CAMPAIGNS FROM YORKTOWN, 1862, TO APPOMATTOX, 1865. TOTAL EMROLMENT 1350. TOTAL CASUALTIES 711. ERECTED 1897. KNOWN ALSO AS THE FOURTH REGIMENT OF SICKLES' EXCELSIOR BRIGADE.