73rd New York Infantry Regiment's Monument at Gettysburg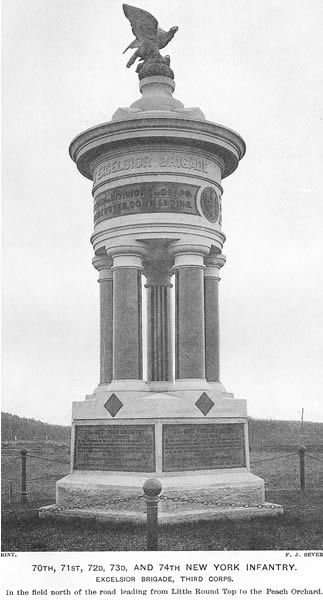 Taken from Final Report on the Battlefield of Gettysburg (New York at Gettysburg) by the New York Monuments Commission for the Battlefields of Gettysburg and Chattanooga. Albany, NY: J.B. Lyon Company, 1902.
INSCRIPTIONS
SICKLES' EXCELSIOR BRIGADE 2D BRIGADE, 2D DIVISION, 3D CORPS. COL. W. R. BREWSTER, COMMANDING. POSITION JULY 2, 1863, 2 TO 6 P. M. JULY 3, SUPPORTED LEFT CENTRE. E PLURIBUS UNUM.
73D NEW YORK INFANTRY (4TH EXCELSIOR, "2D FIRE ZOUAVES") AT 5.30 P. M. JULY 2, 1863, THIS REGIMENT WAS DETACHED TO SUPPORT GENERAL GRAHAM'S BRIGADE AT THE PEACH ORCHARD WHICH WAS HEAVILY ATTACKED BY MCLAWS' DIVISION OF THE CONFEDERATE ARMY. ON JULY 3, SUPPORTED THE LEFT CENTRE OF THE ARMY. CASUALTIES. 51 KILLED, 103 WOUNDED, 8 MISSING. TOTAL 162. MUSTERED IN JULY 10, 1861. MUSTERED OUT JUNE 29, 1865.