68th New York Infantry Regiment's Monument at Gettysburg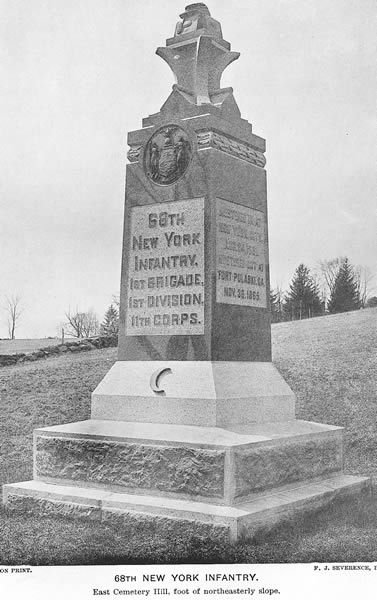 Taken from Final Report on the Battlefield of Gettysburg (New York at Gettysburg) by the New York Monuments Commission for the Battlefields of Gettysburg and Chattanooga. Albany, NY: J.B. Lyon Company, 1902.
INSCRIPTIONS
Front - 68TH NEW YORK INFANTRY, 1ST BRIGADE, 1ST DIVISION, 11TH CORPS.
Reverse - THIS REGIMENT HAVING PARTICIPATED IN THE FIRST DAY OF THE BATTLE, HELD THIS POSITION ON THE 2D AND 3D OF JULY, 1863.
Left Side - CASUALTIES. KILLED 8 WOUNDED 63 MISSING 67.
Right Side - MUSTERED IN AT NEW YORK CITY, AUG. 24, 1861. MUSTERED OUT AT FORT PULASKI, GA., NOV. 30, 1865.