63rd New York Infantry Regiment's Monument at Gettysburg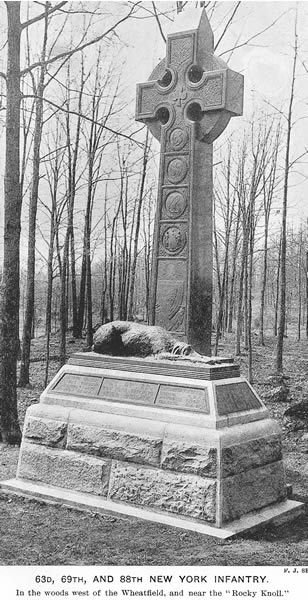 63d, 69th, and the 88th New York Infantry
In the woods, west of the Wheatfield, and near the "Rocky Knoll."
Taken from Final Report on the Battlefield of Gettysburg (New York at Gettysburg) by the New York Monuments Commission for the Battlefields of Gettysburg and Chattanooga. Albany, NY: J.B. Lyon Company, 1902.
INSCRIPTIONS
FRONT - SECOND BRIGADE, FIRST DIVISION, SECOND CORPS. 63D, 69TH, 88TH, NEW YORK INFANTRY, IRISH BRIGADE. CASUALTIES, 63D: KILLED - 5, WOUNDED 10; 69TH KILLED - 5, WOUNDED 14; 88TH - KILLED 7, WOUNDED 17. JULY 2, 1863, 6 P.M.
REVERSE - THE BRIGADE ENTERED THE BATTLE UNDER COMMAND OF COLONEL PATRICK KELLY, 530 STRONG, OF WHICH THIS CON TINGENT, COMPOSING THREE BATTALIONS OF TWO COMPANIES EACH, NUMBERED 240 MEN. THE ORIGINAL STRENGTH OF THESE BATTALIONS WAS 3,000 MEN. THE BRIGADE PARTICIPATED WITH GREAT CREDIT TO ITSELF AND THE RACE IT REPRESENTED IN EVERY BATTLE OF THE ARMY OF THE POTOMAC IN WHICH THE SECOND CORPS WAS ENGAGED, FROM FAIR OAKS, JUNE 1, 1862, TO APPOMATTOX COURT HOUSE, APRIL 9, 1865.