54th New York Infantry Regiment's Monument at Gettysburg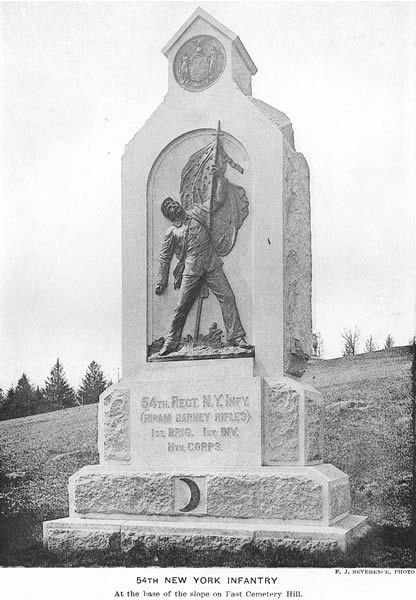 Taken from Final Report on the Battlefield of Gettysburg (New York at Gettysburg) by the New York Monuments Commission for the Battlefields of Gettysburg and Chattanooga. Albany, NY: J.B. Lyon Company, 1902.
INSCRIPTIONS
Front - 4TH REGT. N. Y. INFY. (HIRAM BARNEY RIFLES.) 1ST BRIG. 1ST DIV. l1TH CORPS.
Reverse - 54TH REGT. N. Y. INFANTRY. JULY 1, SKIRMISHING ON EXTREME RIGHT NEAR ROCK CREEK. JULY 2, AT SUNSET, SEVERE FIGHTING IN THIS POSITION. JULY 3, HELD SAME POSITION. CASUALTIES. KILLED 7, WOUNDED 47, MISSING 48; TOTAL Loss, 102. CROSS KEYS, CEDAR MOUNTAIN, RAPPAHANNOCK STATION, WATERLOO BRIDGE, FREEMAN'S FORD, SULPHUR SPRINGS, GROVETON, MANASSAS, CHANTILLY, CHANCELLORSVILLE, GETTYSBURG. 1862-3. FRONT OF CHARLESTON, S. C, 1864-5. ORGANIZED, 1861. RE-ENLISTED, 1864. MUSTERED OUT, 1866.