Corporal Ralph Tolles Collection
Corporal Ralph Tolles Collection
Company F
5th Cavalry
Courtesy Of Bill Wemple
And The Attica Historical Society
Introduction to the Letters
By Bill Wemple
The Letters of Ralph Tolles spans slightly more than six months. There are ten actual letters by Ralph Tolles, most of them written to his sister Katie. The remaining documents are envelope fragments or documents relating to his death.
Ralph Tolles was in the Union Army – 5th New York Cavalry -- for little over seven months. He saw one battle, the battle of Harrisburg. After that, he was accidentally shot in the hip in camp and died soon after.
His sister Kate is "Nancy" Katherine Tolles. She would later marry Ambrose Lathrop Norton, the Ambrose frequently referred to in the letters. The letters suggest that Ambrose and Kate lived close by, but a genealogy developed in the 1930s by James Edward Norton indicates that Ambrose was in the Midwest.
Katherine and Ambrose had four children, the aforementioned James Edward, Ralph Tolles Norton, and two others. Ralph Tolles Norton later married Frances Cogswell Wright and also had four children. The youngest of these four, Mary, inherited the letters from her mother. Mary was my mother.
Ralph Tolles usually uses a single sheet of rough paper he fills completely and probably has little time for correcting his spelling; he's saved further space by not paragraphing. Hastily written sentences are visually separated by spacing rather than periods and capitals.
The actual letters read much better than their transcripts. Transcribed into print, the letters frequently are confusing and sometimes seem semi-literate. In the transcripts, the errors are distracting. In the letters, they're not. He often ignores standard punctuation, but that doesn't usually interfere with the sense of the letter. Run-on sentences in the transcripts are usually quite clear sense units in the actual documents.
Items 9 through 17 -- as well as this sentence -- have been transcribed using a voice recognition program. The program has its quirks. One of them is the failure to recognize possessives; the other is confusion with homonyms. I have not gone back and corrected these problems, but anyone bothering to read these letters will find them perfectly clear without those corrections.
Finally, words in the original are often misspelled. While reading the originals, I thought the misspellings gave them a flavor -- a feeling that I tried to reproduce in the first eight items. I wasn't particularly successful, and in items 9 to 17 the voice-recognition program doesn't, of course, reproduce them. Like the punctuation, these misspellings and punctuation quirks aren't an indication of ignorance; grammar was less standardized then than now.
Ralph Tolles often uses pre-printed Army letterhead. In the transcription., all pre-printed material is either in bold type or italicized.
In addition, parenthetical remarks I've made are usually italicized, but not always. Since I'm writing for family consumption and not for publication, I haven't proofed this as closely as I otherwise would. I may not be careful, but I was productive.
Notes regarding the transcriptions
By Bill Wemple
1. Items 1 through 8 were done in June, 2001 with keyboard. Attention was paid to the original appearance.
2. Items 9 and ff. were transcribed using the Voice Recognition Program "Dragon Naturally Speaking." There is minimal formatting, but I have tried to retain the documents' original errors. I may have missed some errors mad by the VRP.
3. Emended item 1 was done in 2001.
4. Item 17 a is undated. It cannot be dated except by context. There are two contextually significant items in the letter. At the writing, Ralph is stationed on an island next to the ocean; he gathered shells there, but later found he had no place to keep them. It's possible this may have been early in his enlistment when he may have been stationed on Staten Island.
5. 17a belongs at the beginning of the correspondence.
People mentioned in the letters
By Bill Wemple
James S. Tolles
James Sibley Tolles, father of Ralph Tolles, was born September 19, 1800 in Orwell Vermont. He was married three times, and fathered 11 children. Only three of them lived to be adults. The oldest of the remaining eight was 11 years old when she died.
His oldest son, George Herschel Tolles, was one of those three. As an adult he lived in Buffalo where he died on June 23, 1879. He must be the writer of item 14.
Ralph Tolles
Ralph Norton Tolles was the sixth son of James Tolles. He was born in Bennington New York on January 4, 1837.
Nancy Katherine Tolles
"Nancy" Katherine Tolles is the "Kate" of the correspondence; she went by her second rather than her first name. She was born in Bennington New York on November 19, 1841 and died in Sayville New York April 16, 1914 while she was visiting her son, Ralph Tolles Norton.
The letters written by her brother to her were given to her granddaughter Mary Wright Norton by her mother Frances Wright Norton. She kept a diary, and the diary apparently went to Lawrence Chidester. It was originally held by her granddaughter Katherine Britt, daughter of James Edward Norton. (*Chidester died recently, but his widow said there was no diary in his papers. Two pages of the diary have surfaced, suggesting that the diary may be held by the Attica Historical Society in their museum. [1/14/10].)
Ralph Tolles Norton
Ralph T. Norton was the son of Nancy Katherine Tolles and Ambrose Lathrop Norton. He married Frances C. Wright and had four children.
The youngest of those children, Mary Wright Norton, married William W. Wemple Sr. in April 22, 1935 in Sayville Long Island.
Ambrose Lathrop Norton
The "cousin Ambrose" of the letters, he married Nancy Katherine Tolles.
Transcriptions of the letters are here.
An inventory of the collection is here.
Attica Historical Society owns the originals.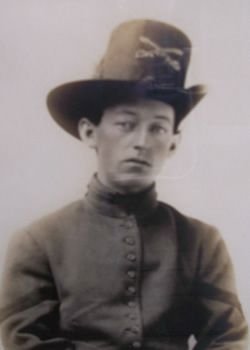 Digital image donated by Bill Wemple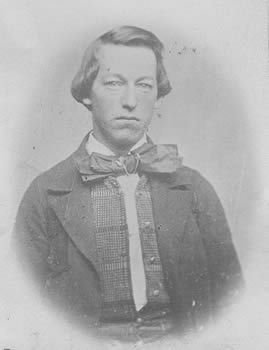 Photo from NYS Military Museum Collection