45th New York Infantry Regiment's Monument at Gettysburg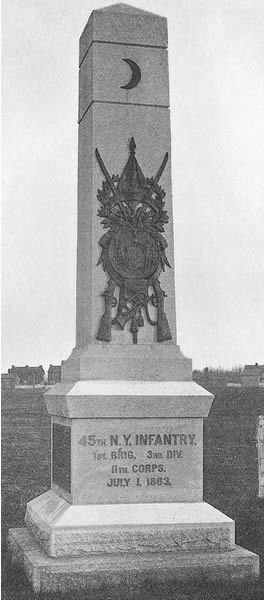 Taken from Final Report on the Battlefield of Gettysburg (New York at Gettysburg) by the New York Monuments Commission for the Battlefields of Gettysburg and Chattanooga. Albany, NY: J.B. Lyon Company, 1902.
Front - 45TH N. Y. INFANTRY. 1ST BRIG. 3D DIV. 11TH CORPS. JULY I, 1863.
Reverse - THE REGIMENT CARRIED INTO ACTION JULY 1ST, 25 OFFICERS AND ABOUT 350 MEN. AS OFFICIALLY REPORTED IT LOST, KILLED II, WOUNDED 35, MISSING 164; TOTAL, 2IO OFFICERS AND MEN. AMONG THE MISSING MANY WERE KILLED OR WOUNDED IN THE TOWN AND NOT INCLUDED IN THE ABOVE NUMBER. THOSE CAPTURED REFUSED OFFERED PAROLE, HOPING TO ENCUMBER THE ENEMY, BELIEVING THAT THE UNION ARMY WOULD CAPTURE THE CRIPPLED FOE AND THEREBY EFFECT THEIR RELEASE. SADLY DISAPPOINTED, THEY SUFFERED INDESCRIBABLE MISERY IN ANDERSONVILLE AND OTHER PRISON PENS, NEGLECTED, OFTEN MALTREATED, AND FINALLY, BELIEVING THEMSELVES FORGOTTEN AND FORSAKEN, MANY DIED MARTYRS AND JOINED THEIR MORE FORTUNATE COMRADES WHO FELL GLORIOUSLY ON THIS FIELD.
Right Side - THIS REGIMENT WENT INTO ACTION ABOUT 11:3O A. M., JULY 1ST, 1863. BY DEPLOYING FOUR COMPANIES AS SKIRMISHERS UNDER CAPTAIN IRSCH, ABOUT ONE HUNDRED YARDS TO THE REAR OF THIS MONUMENT, THEY ADVANCED SUPPORTED BY THE OTHER SIX COMPANIES UNDER LT. CoL. DOBICE, ABOUT FIVE HUNDRED AND FORTY YARDS UNDER A TERRIFIC ARTILLERY AND SHARPSHOOTER'S FIRE TO A POINT INDICATED BY MARKER IN FRONT. THE REGIMENT ALSO ASSISTED IN REPELLING A CHARGE ON THE FLANK OF 1ST CORPS TO THE LEFT, CAPTURING MANY PRISONERS. COVERED RETROGRADE MOVEMENT INTO TOWN, FIGHTING THROUGH THE STREETS, WHERE MAJOR KOCH FELL DESPERATELY WOUNDED. A PORTION OF THE REGIMENT WAS CUT OFF AND TOOK SHELTER IN CONNECTING HOUSES AND YARDS ON CHAMBERS-BURG STREET WEST OF THE TOWN SQUARE, HOLDING THE ENEMY AT BAY, UNTIL ABOUT 5:30 P. M. WHEN THEY SURRENDERED, AFTER HAVING DESTROYED THEIR ARMS AND ACCOUTREMENTS.
Left Side - ON JULY 2D, THE REMNANT OF THE REGIMENT WAS EXPOSED TO A HEAVY ARTILLERY FIRE ON CEMETERY HLLL, AND IN THE EVENING MOVED HASTILY TO CULP'S HILL AND ASSISTED IN REPULSING AN ATTACK ON GREENE'S BRIGADE, I2TH CORPS (SEE MARKERS ON CULP'S AND CEMETERY HILLS). ON THE 3D, IT WAS AGAIN EXPOSED TO ARTILLERY AND SHARPSHOOTER'S FIRE, WHEREUPON SERGT. LLNK, WITH VOLUNTEERS, DISLODGED THE ENEMY'S SHARPSHOOTERS IN THE EDGE OF THE TOWN, NEARLY ALL THE SMALL ATTACKING PARTY BEING KILLED OR WOUNDED IN THE EFFORT. THE REGIMENT WHILE IN THE ARMY OF THE POTOMAC PARTICIPATED IN THE FOLLOWING BATTLES, VIZ.: CROSS KEYS, WHITE SULPHUR SPRINGS, 2D BULL RUN, CEDAR MOUNTAIN, GAINESVILLE, CHANCELLORSVILLE, WATERLOO BRIDGE, GROVETON, GETTYSBURG, AND THEN TRANSFERRED TO THE ARMY OF THE CUMBERLAND AT LOOKOUT MOUNTAIN, RESACA, KENESAW MOUNTAIN AND MANY OTHER MINOR ENGAGEMENTS.