Plan Of The Redoubt And Rifle Pits - 38th New York Infantry Regiment
Plan Of The Redoubt And Rifle Pits Ensilading [Sic] The Leesburg And Fairfax Turnpikes 2 Miles From Alexandria, Virginia: Built By The 38th, 40th N.Y. And 3rd Maine Regiments During October And November 1861.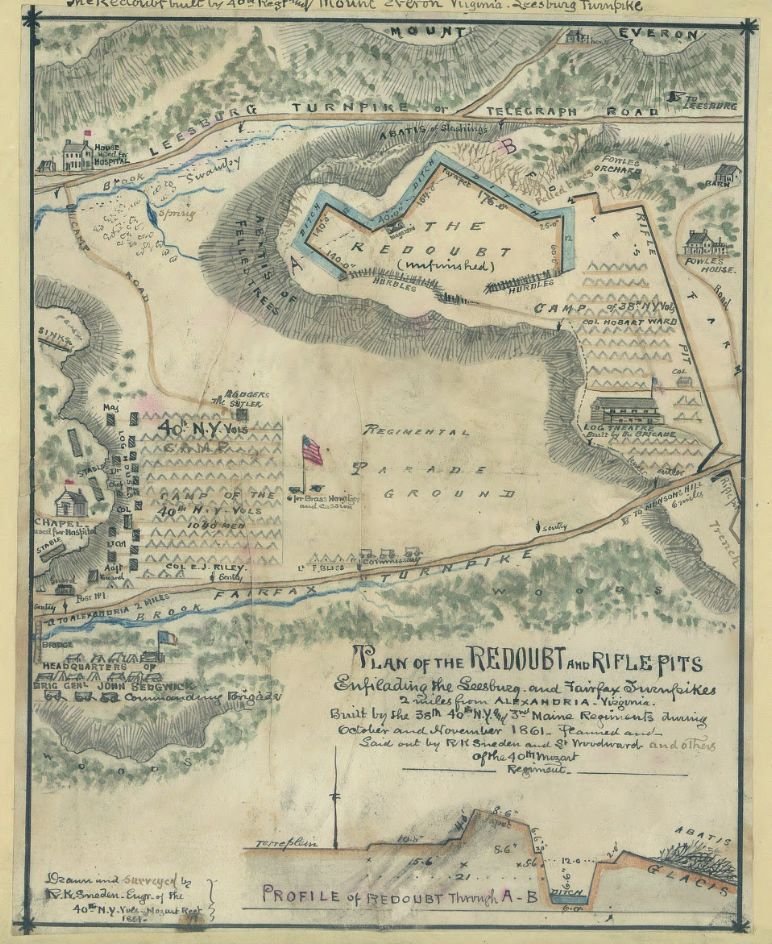 Author(s): Sneden, Robert Knox, 1832-1918.
Place: United States; Virginia; Fairfax County.
Year: 1870-1899?
Description: 1 map : pen-and-ink and watercol. ; 19 x 23 on sheet 35 x 45.
Abstract: Includes main roads, buildings used for the hospital, chapel, stables, theater, and headquarters encampment of Brigadier General John Sedgwick.
Access: Path: gvhs01 Electronic Name: vhs00003Link to external web site http://hdl.loc.gov/loc.ndlpcoop/gvhs01.vhs00003
Note(s): Original scrapbook housed in the Museum Department of the Virginia Historical Society (1994.80.4-525) with restricted access./ NOTE: Researchers will be served a color photocopy of this scrapbook image./ Available also through the Library of Congress web site as a raster image./ Bio/History: The Mozart Regiment is another name for the 40th New York Regiment, U.S.A.
Map Info: Scale not given.
General Info: In the Robert Knox Sneden Scrapbook, 1870-1899 (p. 68). Associated materials: Robert Knox Sneden diary (Mss5:1 Sn237:1),/
Orginal Located at the Virginia Historical Society.