Unknown Regiment - Dudley Station | National | Civil War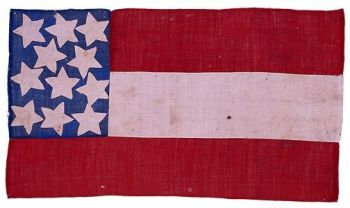 Flag dimensions: 34 1/2" hoist X 58 1/4" fly.
(1995.0302)
On December 17, 1862, Major Charles Fitz Simmons, with companies B and C, 3rd Regiment Cavalry, New York Volunteers, went to Dudley Station, North Carolina, to destroy the railroad under orders from General John Foster. Upon entering the town, according to Fitz Simmons, approximately 20 Confederate pickets scattered towards Mount Olive and Goldsborough. Fitz Simmons discovered 50 muskets, 10 sabers and the Confederate national flag seen here in an abandoned storehouse. This Confederate first national pattern flag, identified in museum records as the flag discovered at Dudley Station, is made of red and blue wool and white cotton. The 11 white cotton stars in the canton are appliquéd to one side only. Interestingly, the other side of the canton includes large, star-shaped areas of a brighter blue color indicating the possible reuse of the blue wool from another flag. The flag joined the New York State Battle Flag Collection by February 1864.