Marshall House Flag | National | Civil War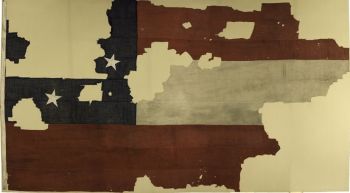 Flag dimensions: 14-foot hoist X 24-foot fly.
(1995.3033)
Shortly after the Confederates bombarded Fort Sumter, South Carolina, James Jackson hoisted the extremely large Confederate national flag seen here onto a 40-foot-tall flagpole atop his hotel, the Marshall House, in Alexandria, Virginia. The flag conforms to the "stars and bars" pattern of the first Confederate national flag. Sail maker John W. Padgett, his wife Libby, and her sister Sarah Graham made the Marshall House flag for a local dockworker, Charles Taylor, for $ 30.00. When Jackson heard about the flag he offered to fly it from his hotel. The wool flag is believed to have originally included seven white stars in a circular pattern in the canton, one each for the first seven states to secede from the Union, and a larger white star in the center allegedly representing Virginia. On May 24, 1861, Federal forces, including Colonel Elmer Ellsworth and the 11th New York Volunteers, entered Alexandria. Ellsworth decided to remove Jackson's flag from the Marshall House hotel. With a small party, including Corporal Francis Brownell, Ellsworth climbed to the roof and cut down the flag. During their descent Ellsworth and his party encountered Jackson, who was armed with a shotgun. Gunfire ensued, leaving both the hotel owner Jackson and the charismatic Ellsworth dead. The flag at the center of the drama accompanied Ellsworth's body home to New York State and served as the symbol of the slain martyr. Relics connected to Ellsworth's death became prized possessions, including pieces cut, or "souvenired," from the Marshall House flag.