BG Bradley T. Johnson's Brigade | Headquarters Guidon | Civil War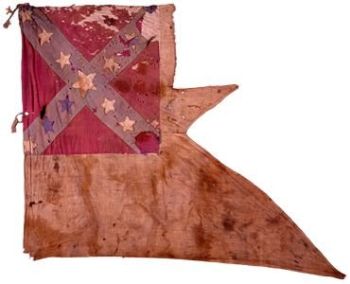 Flag dimensions: 33 1/2" hoist X 39" fly.
(1995.6614)
On August 7, 1864, at Moorefield, West Virginia, Brigadier General William Averell's Second Cavalry Division, Department of West Virginia, captured Confederate Brigadier General Bradley T. Johnson's headquarters guidon. Averell's command included the 1st Regiment Cavalry, New York Volunteers under Captain Abraham Jones. The canton, appliqued onto the front and back, is wool with cotton stars. The field is cotton and heavily soiled and stained. Approximately 25% of the flag is missing including the upper fly quadrant and several stars on both sides.