47th Alabama Infantry (probable) | National | Civil War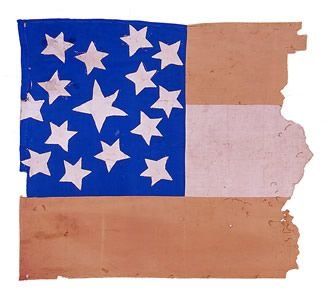 Flag dimensions: 37 1/2" hoist X 42" fly.
(1995.0303)
On September 17, 1862, during the battle of Antietam, Maryland, Private Stanislas Beneaux, Company E, 35th New York Volunteers, captured a Confederate flag reportedly from an Alabama regiment, most likely the 47th Alabama Infantry. In his official report, Third Brigade, First Division, I Corps commander Brigadier General Marsena Patrick acknowledged the capture, "... we checked the enemy's advance sufficiently to push our lines up the road, which we held firmly for some time, the Thirty-fifth Regiment capturing the colors of the rebel regiment advancing on our battery." The Confederate first national pattern flag seen here, identified in museum records as the flag captured by Beneaux, is made of cotton with 15 appliquéd stars in the canton. On display at the Great Wardrobe Clothing Store in Watertown, New York in June 1863, the flag joined the New York State Battle Flag Collection, via Captain John Haddock, 35th New York Volunteers, by February 1864.