14th Alabama Infantry (probable) | ANV Battle Flag | Civil War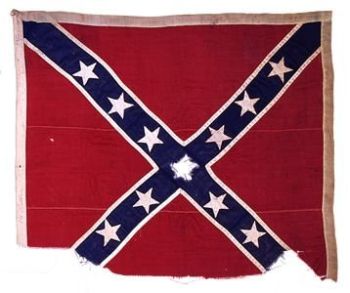 Flag dimensions: 41 1/2" hoist X 48 1/2" fly.
(1995.0295)
On July 24, 1866, Lieutenant G.N.P. Gale, 11th Independent Battery, NY Volunteers, donated a Confederate battle flag reportedly taken near Clover Hill, Virginia, on April 9, 1865. The Army of Northern Virginia battle flag seen here, identified in museum records as the Clover Hill flag, is marked in pencil, "14 Alabama," along the hoist edge and most closely matches the seventh bunting issue. The 10 remaining stars measure 4-inches in diameter and are spaced about 7-inches apart.