15th Regiment Engineers, NY Volunteers | Regimental Color | Civil War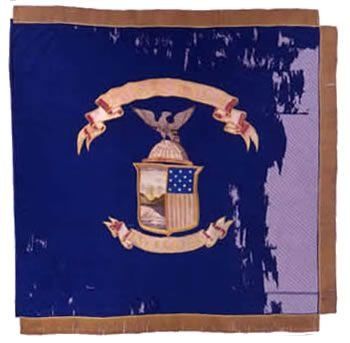 Flag dimensions: 76 3/4" hoist X 76 1/4" fly.
(2002.0058)
Mrs. S.D. Bradford presented this embroidered silk regimental color featuring the Arms of the State of New York to the 15th Regiment in June 1861. Organized in New York City, the regiment originally mustered in for two-year service as infantry and served as such until converted to engineers in October 1861. Throughout the fall and winter of 1861-62 the regiment encamped near the Washington Navy Yard where it received engineer instruction. This flag is made of thirteen strips of blue silk fabric with the seams running in the horizontal direction.