97th Regiment NY Volunteer Infantry | Flank Marker | Civil War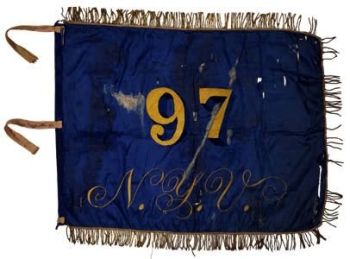 Flag dimensions: 22" hoist X 32 1/2" fly.
(2006.0284)
This blue silk flank marker carried by the 97th Regiment NY Volunteer Infantry features 1.5-inch long metallic bullion fringe and the regiment's numeric designation embroidered in the center. Three sets of cream-colored, wool, 5/8-inch wide, twill tape tie-backs are sewn to the hoist edge for attachment to a staff. A narrow, cotton cord with loops at each end is positioned inside the narrow sleeve along the hoist and may have been the original means to attach the flag to its staff. Albert H. VanDeusen, a captain from Company G, deposited the flag in the collection in 1900.