86th Regiment NY Volunteer Infantry | National Color | Civil War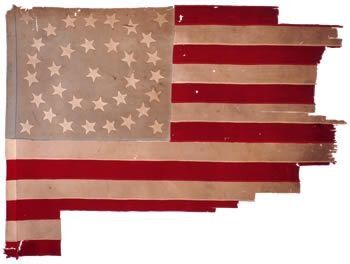 Flag dimensions: 54 1/4" hoist X 72 1/4" fly.
(2005.0009)
The "ladies of Addison" presented this flag to Company B, which was recruited in Addison. After company commander Captain William Angle suffered a mortal wound at Chancellorsville, Virginia, May 3, 1863, the regiment adopted the flag as the unit's official national color. Four color sergeants suffered mortal wounds while carrying this flag in battle until December 1863, when the regiment retired the color. Among the flags paraded before Governor Reuben Fenton on July 4, 1865, this wool national color reportedly received over 20 bullet holes while in service.