7th Regiment NY State Militia | National Color | Civil War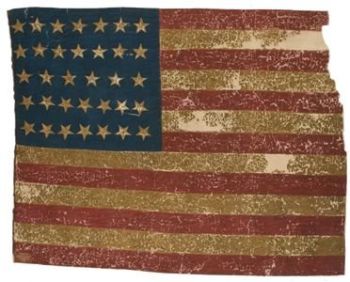 Flag dimensions: 60" hoist X 85" fly.
(2009.0061)
On May 23, 1861, at Camp Cameron near Washington, D.C., the 7th Regiment received this silk national color during a grand presentation ceremony with President Abraham Lincoln, his family, and several thousand spectators in attendance. Reportedly made by several dozen young ladies from New York City, most notably the granddaughters of distinguished patriots, Alexander Hamilton and John Jay, the flag includes individual pieces of red, white, and blue silk hand stitched together and 34 reverse-appliquéd stars.