7th Regiment NY National Guard | General Guide Flag | c. 1899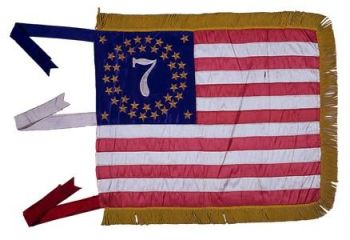 Flag dimensions: 18" hoist X 19 3/4" fly.
(2009.0071)
This silk general guide flag in the U.S. National pattern includes 42 gold-colored, embroidered stars and the regiment's numeric designation, "7," embroidered in white in the canton. The U.S. flag officially included 38 stars from July 4, 1877 until July 4, 1890, when the 43-star flag became official. Five states joined the Union between November 2, 1889 and July 3, 1890. Washington, the forty-second state, joined the Union on November 11, 1889. Regardless of when a state joined the Union, its star did not officially appear on the national flag until the next July 4. Consequently, a 42-star U.S. National flag did not "officially" exist.