79th Regiment NY Volunteer Infantry | National Color | Civil War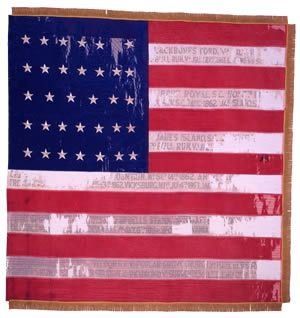 Flag dimensions: 74" hoist X 70 1/2" fly.
(2005.0075)
According to a presentation plate attached to the flag's staff, the 79th Regiment received this silk national color from the City of New York in 1863. Pieced together in red, white, and blue silk with 1/8-inch machine-sewn seams, the flag features 33 embroidered stars from a 34-star pattern and painted battle honors that commemorate the regiment's service from July 1861 through April 1865. Lieutenant Colonel Henry Heffron deposited the flag with the state on July 29, 1865.