77th Regiment NY Volunteer Infantry | National Color | Civil War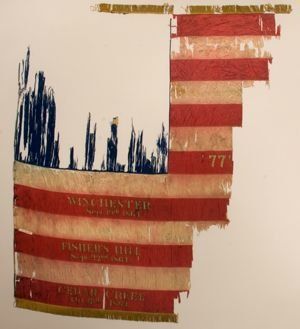 Flag dimensions: 73 3/4" hoist X 65" fly.
(2015.0135)
On November 28, 1861, the 77th New York Volunteers assembled outside the Temple Grove Seminary in Saratoga Springs, New York, where the school's proprietor, Reverend Luther F. Beecher, presented this silk national color to the regiment on behalf of his female students. The regiment carried this flag into battle for three years, including on May 3, 1863, at Marye's Heights, Virginia, where an artillery shell pierced the blue canton. Two of the flag's color bearers received mortal wounds while in battle - Corporal Joseph Murrer at Antietam, Maryland, September 17, 1862, and Corporal Michael McWilliams at the Wilderness, Virginia, May 6, 1864. The regiment retired the war torn color in November 1864 and added battle honors, in paint, to commemorate their service at three recent battles in Virginia - Winchester, September 19, Fisher's Hill, September 22, and Cedar Creek, October 19.