77th Regiment NY Volunteer Infantry | Flank Markers | Civil War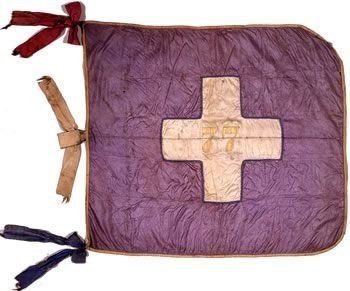 Flag dimensions: 23" hoist X 28" fly.
(2001.0059)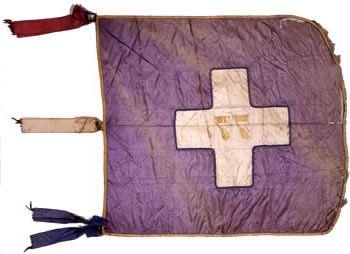 Flag dimensions: 18 1/2" hoist X 21" fly.
(2001.0085)
The 77th Regiment, organized in Saratoga Springs, mustered into service in November 1861 for three years. When the term expired, the regiment continued in service, five companies strong. The 77th Regiment carried these silk flank markers featuring the 2nd Division, 6th Corps badge from November 1864 to July 1865. The fabric badge, decorated with two rows of fish-tail braided blue yarn, was pieced into a center cut-out section of the flag.