77th Regiment NY Volunteer Infantry | Flank Marker | Civil War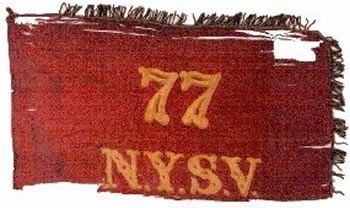 Flag dimensions: 14 1/2" hoist X 26" fly.
(2000.0165)
This crimson colored, silk flank marker, used to mark the right of the line, features bullion fringe and an embroidered inscription. The bullion fringe was too heavy for the fragile silk, causing it to split along the top and fly edges. Approximately 25% from the bottom is missing. The 77th Regiment, or "Bemis Heights Regiment," was organized in Saratoga County. Citizens of Saratoga County, resident in New York City, presented this flag to the regiment in November 1861.