75th Regiment NY Volunteer Infantry | National Color | Civil War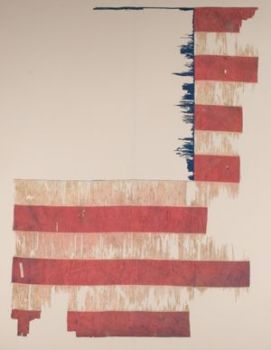 Flag dimensions: 71 1/4" hoist X 54 fly.
(2016.0032)
On November 21, 1861, the 75th Regiment New York Volunteers, or "Auburn Regiment" after the regiment's home city of Auburn, New York, received a stand of colors, including the national color seen here, from two patriotic Auburn ladies, Miss Sarah Dill and Miss Helen Bartlett. Reportedly, Dill made one flag in the stand of colors, presumably this national color. This flag accompanied the 75th New York Volunteers during the dramatic Siege of Port Hudson, Louisiana, May 23 – July 8, 1863. The regiment suffered over 100 casualties during the siege, including the gallant color bearer who carried this national color. The color bearer, possibly Sergeant Lyman Hill, received a fatal bullet to the heart and as he fell a corporal snatched the national color and waved the flag in the face of the enemy. In early 1864, veterans from the regiment briefly returned home to Auburn with the tattered, war-torn national color. Although significantly damaged, the once pristine flag returned home with honor. The flag entered the New York State Battle Flag Collection by 1865 and remained furled upon its staff until 2016. Although only approximately 35% of the flag currently remains, the banner serves as a tangible emblem of the regiment's sacrifices.