73rd Regiment NY Volunteer Infantry | Guidon | Civil War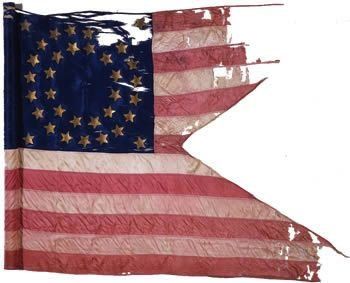 Flag dimensions: 27" hoist X 34" fly.
(2002.0135)
This silk swallowtail guidon, used as a marker to assist in battlefield maneuvers, conforms to the "stars and stripes" pattern described in General Order No. 4, Headquarters of the U.S. Army, dated January 18, 1862. This silk flag has retained the original dark blue hue in the canton. The center fly includes reinforcement stitches for added strength. The damage and loss in the top half and tails were most likely caused from use, leaving the flag in a fragile state.