71st Regiment NY Volunteer Infantry | National Color | Civil War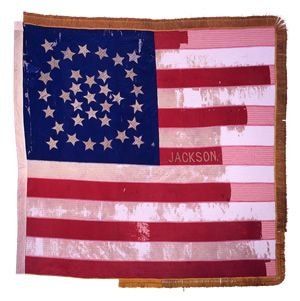 Flag dimensions: 76 1/2" hoist X 76 3/4" fly.
(2008.0187)
This silk national color carried by the 71st New York Volunteers includes part of the regiment's original moniker, "Jackson Light Infantry," painted on the center red stripe. The regiment carried this flag throughout 1862, including during the deadly Seven Days Campaign in Virginia, June 25-July 2, 1862. The national color includes 34 white silk stars, reverse appliquéd in the canton, with 13 stars formed into a larger, slightly angled, single star. This particular star pattern, stars arranged to form a larger star known as the "Great Luminary" pattern, dates to 1818 and became especially popular during the Civil War.