69th Regiment NY State Militia | Prince of Wales Flag | 1861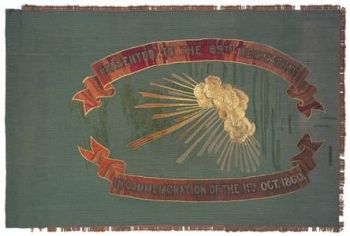 Flag dimensions: 57" hoist X 84" fly.
(2011.0008)
In October 1860, the 69th Regiment, New York State Militia, an Irish unit headquartered in New York City and led by Colonel Michael Corcoran, refused to march in a parade for the visiting Prince of Wales, the Queen's son, to protest the British monarchy's failed policies in Ireland. On March 16, 1861, the regiment received a special flag, known as the "Prince of Wales" color, from the local Irish-American community to honor and celebrate this controversial public display of defiance. The "Prince of Wales" flag, in green silk, proudly included the Fenian sunburst and an inscription commemorating the disobedient act. Very little remains from the original "Prince of Wales" flag; most of the original silk deteriorated, leaving just the embroidered sunburst and inscriptions. During the early 20th century, a flag restorer sewed the original flag fragments to a green linen backing fabric using a buttonhole stitch and green linen thread. In the embroidered areas, she used a straight stitch with thread colors closely matched to the embroidery colors. The Star Spangled Banner, the famous flag that flew from Fort McHenry during the War of 1812, received the same treatment.