64th Regiment NY Volunteer Infantry | National Color | Civil War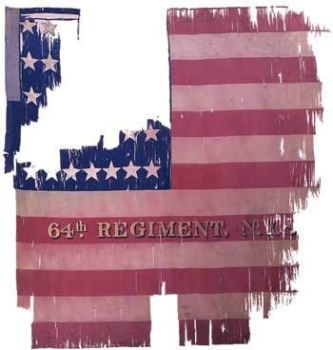 Flag dimensions: 73" hoist X 72" fly.
(2002.0127)
The Board of Supervisors of Cattaraugus County presented the 64th Regiment with their Regimental Color and allegedly with this national color as well. At Gettysburg, Corporal Thomas Zibble and Corporal Albert Empy were wounded while carrying this color. At some point during its use in the war, a skilled seamstress repaired damage to the upper hoist corner by using a piece of blue silk cloth to replace the original upper staff sleeve. She then stitched the dark blue silk of the upper hoist to the replacement along the top edge. The stars were pieced in with white silk fabric.