61st Regiment NY Volunteer Infantry | National Color | Civil War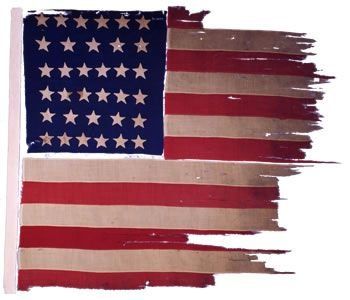 Flag dimensions: 70" hoist X 85 1/4" fly.
(2006.0002)
This wool national color carried by the 61st Regiment features 34 reverse-applique stars in six horizontal rows (6-5-6-6-5-6). Reportedly, Colonel Nelson Miles deposited this flag with state authorities in early 1863. In a letter to General John Sprague, Adjutant General, State of New York, dated March 25, 1863, Miles revealed that the flag, "is stained with the blood of the brave color bearer - Sergt Frank Aldrich."