59th Regiment NY Volunteer Infantry | Camp Colors | Civil War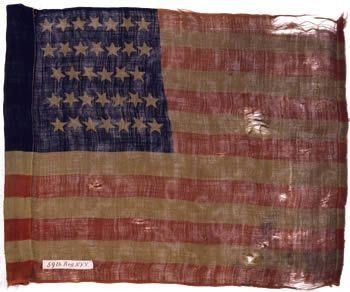 Flag dimensions: 19" hoist X 23 1/4" fly.
(2002.0066)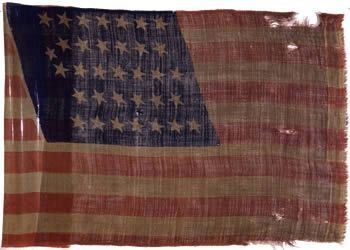 Flag dimensions: 18 1/2" hoist X 26 1/2" fly.
(2002.0067)
The New York State Battle Flag Collection includes 2 printed wool camp colors carried by the 59th Regiment NY Volunteer Infantry. Each camp color is in the U.S. national pattern as prescribed in General Order No. 4, Headquarters of the U.S. Army, dated 18 January 1862. Each camp color includes 34 white stars in 5 horizontal rows with the hoist edge rolled over to create a sleeve for attachment to a staff. The canton on one camp color, due to a manufacturing error, is slightly askew resulting in one star misplaced between the second and third row.