55th Regiment NY Volunteer Infantry | French National Flag | Civil War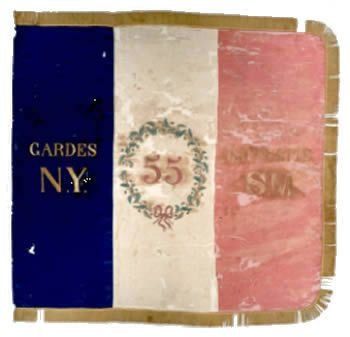 Flag dimensions: 78" hoist X 79" fly.
(1998.0158)
Colonel Baron Philipe deTrobriand organized an infantry regiment in New York during the summer of 1861 with recruits drawn primarily from the 55th Regiment NY State Militia, a predominantly French unit nicknamed the "Lafayette Guard." Supporters of the regiment presented this French tricolor to the regiment on January 8, 1862 at Camp Tenallytown with President and Mrs. Lincoln in attendance. The flag features an embroidered inscription on each of the three vertical bands: "GARDES N.Y." on the blue band, "55" within a circular wreath on the center white band, and "LAFAYETTE S.M." on the red band.