55th Regiment NY Volunteer Infantry | Flank Marker | Civil War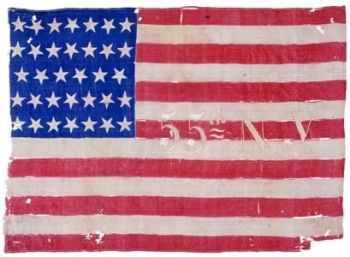 Flag dimensions: 21 1/4" hoist X 29 1/4" fly.
(1995.5645)
In a letter dated February 6, 1862, Colonel Philippe Regis de Trobriand instructed his daughter to procure two small silk American flags and to embroider "55th N.Y. Vol." on each. One flag from the pair, seen here, presumably accompanied the regiment on its campaigns through December 1862. The flag remained with de Trobriand's family until 1960 when Commander Charles K. Post, great grandson of General de Trobriand, deposited the flag into the collection.