52nd Regiment NY Volunteer Infantry | Regimental Color | Civil War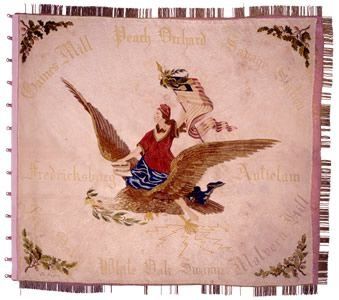 Flag dimensions: 77" hoist X 85" fly.
(2005.0077)
On October 30, 1861, May Matthews, representing the "ladies of Brooklyn," presented this custom made regimental color to the 52nd Regiment New York Volunteer Infantry in a public ceremony overlooking New York's harbor. Colonel Paul Frank received the flag and delivered a rousing acceptance speech, in German, to his regiment and the sympathetic crowd. The flag, as originally constructed, included three fabric layers- two outer silk pieces, each made from a single piece of silk, supported by a cotton lining. One outer silk piece, seen here, features Liberty atop an eagle with the Constitution in one hand and a national flag in the other, all embroidered, with embroidered battle honors and oak leaves. The other outer silk layer includes embroidered battle honors, an oak wreath, and inscriptions including Colonel Frank's name, regiment identification, and nickname, "Sigels Rifles."