51st Regiment NY Volunteer Infantry | Flank Markers | Civil War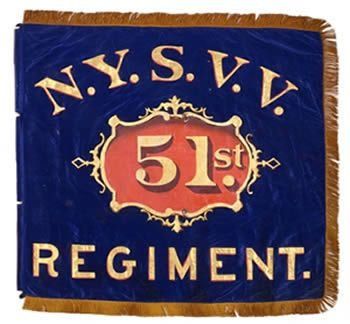 Flag dimensions: 28" hoist X 29 3/4" fly.
(2001.0081)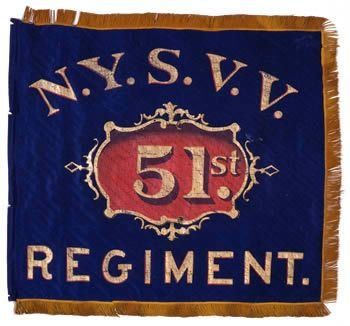 Flag dimensions: 27 1/4" hoist X 30" fly.
(2002.0158)
The 51st Regiment , or "Shepard Rifles," mustered into service for three years by 23 October 1861. When their three year term expired, those entitled were discharged and the regiment continued in service as "Veteran Volunteers," as indicated by the "N.Y.S.V.V." along the top of these blue silk flank markers. Both flags feature painted inscriptions in gold, shadowed in red, along the top and bottom. Also, each features a red painted shield in the center framed with a gold painted ornamental border and the regiment's numeric designation painted in gold and shadowed in crimson. "N.Y.S.V.V." and "REGIMENT." are in mirror image on the reverse while the numeric designation reads correctly (l to rt).