40th Regiment NY Volunteer Infantry | National Color | Civil War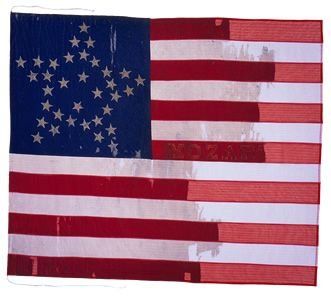 Flag dimensions: 68 1/2" hoist X 80 1/2" fly.
(2010.0344)
On July 3, 1861, New York City Mayor Fernando Wood with additional representatives from the Union Defense Committee presented a stand of colors, including the silk national color seen here, to the 40th New York Volunteers. The regiment was then known as the "Mozart Regiment" after the Mozart Hall faction within the Democrat Party that propelled Wood into office. Colonel Edward Riley gratefully accepted the flags and vowed that the banners would "never be stained with tokens of dishonor." This silk national color includes 34 stars, reverse appliquéd in the canton in a star-like configuration known as the "Great Luminary" or "Great Star" pattern. The painted inscription on the center red stripe, "MOZART," reads left-to-right on both sides of the flag. If one piece of silk was painted on both sides, the paint would bleed through to the other side, so each side has a separate piece of fabric only at this stripe. In 1976, a flag restorer disassembled the flag around the canton and horizontal center, sandwiched the flag between nylon net with machine zig-zag stitching, and then reassembled the flag. Although not an acceptable conservation practice by today's standards, the netting did prevent further losses to the flag.