3rd Regiment NY Volunteer Infantry | Guidons | Civil War
Flag dimensions: 23" hoist X 15" fly.
(2000.0158)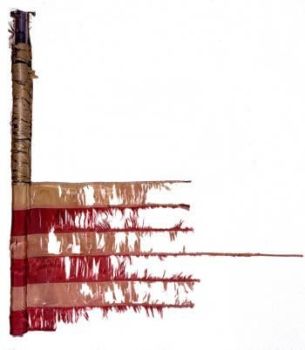 Flag dimensions: 26 1/2" hoist X 24" fly.
(2003.0291)
The New York State Battle Flag Collection includes two guidons attributed to the 3rd Regiment NY Volunteer Infantry. Both guidons have significant losses. Originally swallow-tailed and in the U.S. national pattern as prescribed in General Orders dated January 18, 1862, these guidons most likely included gold painted stars in a circular pattern in the canton. Overexposed to light, the blue fabric faded to a light blue-yellow hue as seen along the upper sleeves.