20th Regiment NY State Militia | Regimental Color | Civil War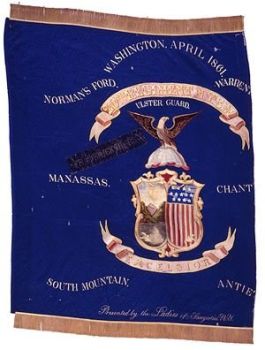 Flag dimensions: 80" hoist X 63" fly.
(2007.0047)
On December 15, 1862, as the 20th New York State Militia (80th Regiment NY Volunteer Infantry) skirmished below Fredericksburg, Virginia, ladies from Saugerties presented the Regimental Color seen here to the regiment in a public ceremony at the Reform Dutch Church in Saugerties. The flag, manufactured by Tiffany & Co. for $ 200.00, finally reached the regiment in February 1863 while they were on provost duty near Aquia Creek, Virginia. The regiment carried the embroidered color on campaign, including at Gettysburg where Color Sergeant Edward Beckett suffered a hand wound as enemy fire shattered the staff. The bullet-riddled flag includes the Arms of the State of New York embroidered in the center and the inscription, "Presented by the Ladies of Saugerties, N.Y." embroidered along the lower edge. Originally the flag included seven battle honors commemorating the unit's service from April 1861-except Fredericksburg. The regiment later added a black paper battle honor with gilt lettering for Fredericksburg and a similar honor on the reverse for Gettysburg.