20th Regiment NY State Militia | Regimental Color | 1858-1861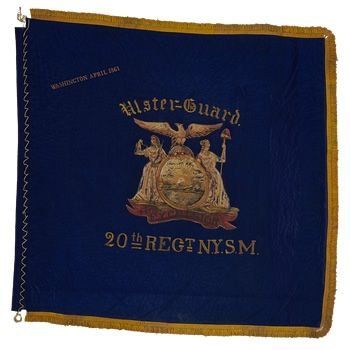 Flag dimensions: 74" hoist X 74" fly.
(2010.0345)
On August 31, 1858, citizens from Ulster County's two most populous communities, Kingston and Roundout, gathered on a green between the two towns and presented the Regimental Color seen here to the "Ulster Guard." During the enthusiastic presentation ceremony, Colonel George Pratt accepted the flag and promised, ". . . if this land is ever involved in war, these colors shall wave with credit and glory wherever danger is thickest and the fight is warmest." The "Ulster Guard" proudly carried this flag when it left the state on May 7, 1861, to begin a three-month term in the defenses near the nation's capital. Led by Colonel Pratt, the regiment set out for Washington, D.C., but eventually reported to Annapolis, Maryland, where it served on guard duty. The blue silk Regimental Color features the Arms of the State of New York embroidered in the center with the unit's nickname, "Ulster-Guard.," embroidered above the arms, and its designation, "20th REGT. N.Y.S.M.," embroidered below the arms. Sometime after its use in 1861, someone added an embroidered "WASHINGTON APRIL 1861" battle honor in the upper hoist corner. Colonel George Pratt's family retained the flag until 1961 when a descendent, Count Henri de Lebran of France, deposited the flag into the New York State Battle Flag Collection.