182nd Regiment NY Volunteer Infantry | Headquarters Flag | Civil War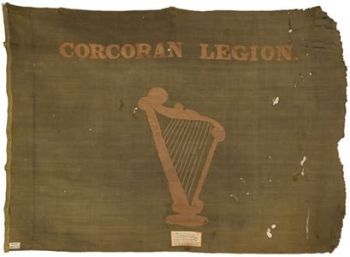 Flag dimensions: 33 3/4" hoist X 46 3/4" fly.
(2010.0014)
This green wool flag includes a buff-colored cotton inscription, "CORCORAN LEGION," appliqued to the front and back along the top. A similarly colored wool harp is also appliqued on both sides. The harp's strings are embroidered. A label, most likely added after the Civil War, is hand-stitched to the flag below the harp. The label includes a hand-written note identifying the flag as the headquarters flag for the 69th Regiment (National Guard Artillery) from the Corcoran Irish Legion. The War Department designated the 69th New York National Guard Artillery as the 182nd New York Volunteer Infantry in March 1864.