175th Regiment NY Volunteer Infantry | Flank Markers | Civil War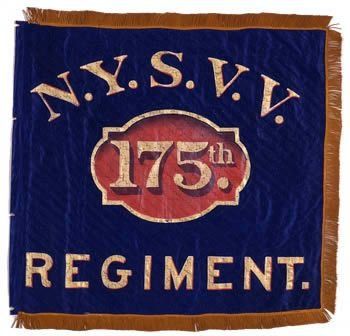 Flag dimensions: 28 1/2" hoist X 29 1/2" fly.
(2003.0194)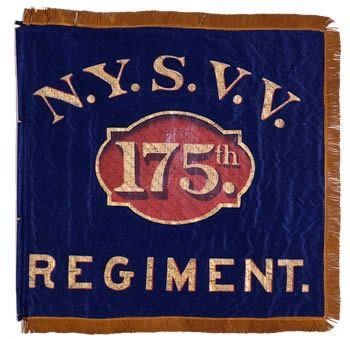 Flag dimensions: 29" hoist X 29 1/2" fly.
(2003.0195)
The New York State Battle Flag Collection includes two silk flank markers carried by the 175th Regiment New York Volunteer Infantry. The regiment mustered into service for three years during the late fall of 1862. One year later the regiment consolidated into three companies and in October 1864 two new companies joined. Most likely the flank markers date to the regiment's continued service as "Veteran Volunteers," as indicated by the "N.Y.S.V.V.," after their consolidation and after the two new companies joined. Both flags feature painted inscriptions and a semi-elliptical red shield in the center on both sides. "N.Y.S.V.V." and "REGIMENT." are in mirror image on the reverse for both.