16th Regiment NY Volunteer Infantry | Regimental Color | Civil War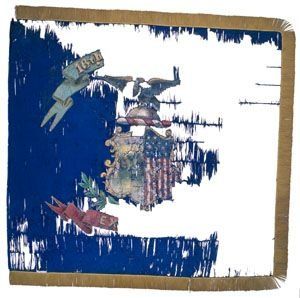 Flag dimensions: 81" hoist X 82.5" fly.
(2011.0075)
On June 26, 1861, the 16th New York Volunteers arrived in New York City from Albany, New York. The men marched to Washington Square where, later that afternoon, the regiment received this Regimental Color from Robert Hone, a New York City lawyer, on behalf of Eliza Woolsey Howland. At Gaines' Mill, Virginia, June 27, 1862, after three color bearers in succession received wounds, Private John Moffitt heroically took up the Regimental Colors until wounded himself to earn the Medal of Honor. While most Regimental Colors were made with a single piece of blue silk, this flag includes 13 individual strips of blue silk pieced together. The painted design, the Arms of the State of New York, appears on both sides with the design on the reverse in mirror image.